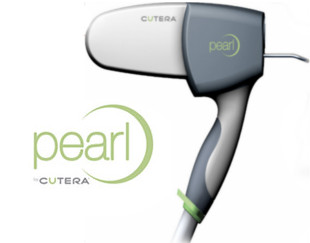 Skin imperfections caused by aging and sun damage can make your skin look dull and unappealing. Cutera Pearl Laser Skin Resurfacing can help you deal with these imperfections by treating both the dermis and epidermis layers of the skin. It combines the impact of resurfacing lasers with the gentleness and safety of non-invasive procedures for improving aging and sun-damaged skin.
You can turn to this laser skin resurfacing treatment in Singapore for reducing wrinkles, uneven texture, and solar damage. This provides a healthy, "pearl-like" glow with fewer treatments and less overall recovery time than other technologies and cosmetic procedures.
Pearl can treat or improve the appearance of:
Fine lines/wrinkles
Acne marks/hyperpigmentation
Acne scars
Sunspots/age spots
Uneven skin texture
Sun damaged skin
How Pearl Procedure works
The Cutera Pearl Laser Skin Resurfacing treats the top layers of the skin using pulses of light in a pre-selected pattern. The laser simultaneously delivers heat to the skin's deeper layers, stimulating collagen growth. The skin will then form a protective dressing, which will peel off after three to five days, revealing healthier and clearer skin.
It is also good to know that Pearl is a non-ablative device, which means that it does not destroy cells within the epidermis. This enables shorter downtime compared to other fractioned lasers, providing an overall rejuvenation in less than a week.
FAQs
Is the Cutera Pearl Procedure safe?
Yes. Pearl is developed by Cutera, a leading provider of aesthetic systems in the United States. This new generation laser is also FDA-cleared and can take years of your skin in one to two treatments.
Does the Pearl Procedure hurt?
The laser resurfacing procedure feels like a series of brief pinches as the pulses of light treat and penetrate the skin. However, this can still depend on the individual as each patient has varying levels of pain tolerance. Numbing cream will also be applied before the treatment to numb the area and make the procedure more comfortable.
What can you expect after the procedure?
After the Pearl Procedure, it is normal for your skin to look sunburned and feel tight. The skin will start peeling off on the 3rd or 4th day and patients are advised not to rub, pick, or scrub the skin. You need to allow your skin to slough off on its own after a week to avoid irritation while it is healing.
At this time, your skin will also be sensitive to the sun, so you need to avoid sun exposure and protect it from the UV rays. Our clinics will give you a complete post-care instruction after your laser resurfacing treatment in Singapore.
How many Pearl treatments do I need?
Patients will require about one to two treatments to achieve desired results. To maintain or prolong its effects, you need to commit to a quality skin routine after finishing your Pearl laser treatments.
When will I see results?
You can expect to see results on the 3rd or 4th day when the skin has peeled off. Overall improvement in skin clarity, smoothness and softness are visible after at least one to two weeks. Also, new collagen continues to grow in about three to six months after the treatment
Are there any side effects or downtime?
Side effects of the Pearl Procedure include temporary redness, swelling, and peeling after the treatment. You can also expect a minimal to moderate downtime of three to four days. During this period, you need to let your skin heal and avoid UV exposure to prevent permanent damage to skin.
How much does the Cutera laser treatment cost?
The cost of Cutera Pearl Laser Skin Resurfacing varies on the area being treated. At Cutis Laser Clinics, a full face treatment starts at $680. A consultation with our clinic/aesthetic doctor will give you a more accurate quote of the procedure based on your needs.
If you're looking for a non-invasive way to treat fine lines, wrinkles, and sun damaged skin, don't hesitate to consider Cutera Laser Resurfacing in Singapore. Contact us today to schedule an appointment or learn more about this treatment.