Looking to counteract the signs of aging without cuts and needles? Ultherapy in Singapore is a good alternative, providing a nonsurgical approach to face lifting using ultrasound energy. It helps slow down the effects of aging caused by time, gravity, and sun exposure.
Ultherapy is the only US FDA-cleared procedure for naturally lifting and tightening the skin on the face, on the brow, and under the chin. It uses time-tested focused ultrasound energy that penetrates deep into the skin's layers. This triggers collagen production, which results in visible skin tightening over time.
How does Ultherapy work?
Ultherapy nonsurgical facelift uses a system called Ulthera, which bypasses the surface of the skin. This delivers the right amount of ultrasound energy beneath the skin's foundational layer. This then triggers a natural response, jumpstarting the regenerative process that stimulates the production of new collagen.
This non-invasive lifting procedure also uses ultrasound imaging, enabling aesthetic or Ultherapy doctors to see the areas they are treating. This reassures patients that the ultrasound energy is delivered to the areas where it will be both effective and beneficial.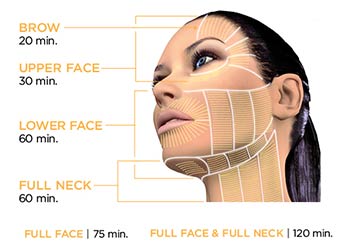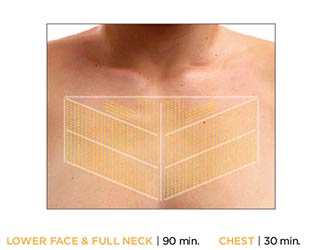 FAQs
Is Ultherapy safe?
Clinical studies worldwide, along with thousands of procedures performed internationally, have established Ultherapy's safety and effectiveness. It has also received the European CE mark for non-invasive dermatological lifting and sculpting of the upper and lower face, neck, and décolleté.
Does Ultherapy hurt?
It is normal to feel tiny amounts of energy during the procedure, but the comfort levels vary from patient to patient. However, these sensations are only present while the energy is being delivered on the surface of the skin.
Safe painkillers and topical numbing creams are also available before the procedure to improve patient comfort.
How fast can I see Ultherapy results?
Many notice an initial improvement after the treatment, but significant results of Ultherapy appear over two to three months. This is the period when the new collagen works to lift and tighten skin. You can see further improvements up to six months after the procedure.
How many Ultherapy treatments do I need?
Most patients can benefit from a single treatment, but others may need multiple sessions depending on the degree and skin laxity and the body's response to the procedure. It is also a good idea to consider this non-invasive lifting procedure as an annual treatment, as we cannot stop the aging process.
When done as a maintenance treatment, Ultherapy facelift can slow down the effects of aging and put more collagen in your collagen bank.
Are there any side effects?
You may feel slight redness or tenderness following the treatment, but this is temporary and should subside after a few hours. A consultation with Ultherapy clinics in Singapore can help you learn what to expect before, during, and after the procedure.
Can Ultherapy replace a surgical facelift?
Ultherapy facial treatment is not a replacement for a surgical facelift. However, it is a great choice if you are not willing to go under the knife or if you want to extend the effects of cosmetic surgery.
Is Ultherapy only for women?
No. Both men and women can benefit from Ultherapy nonsurgical facelift. Men who want to look youthful or more competitive can consider the procedure for effectively lifting and tightening sagging skin caused by aging.
How much does Ultherapy cost?
The cost of Ultherapy depends on several factors like the location of the clinic, number of sessions performed, and the areas being treated. At Cutis Laser Clinics, the cost of lower face treatment starts at $1650 while a full face treatment starts at $1930.
Since the cost varies, it is  advisable to contact an Ultherapy clinic or doctor to get a better idea of how much the treatment will be based on your individual needs and concerns.
Can Ultherapy be combined with other aesthetic treatments?
Yes. Here at Cutis Laser Clinics, you can combine Ultherapy facelift with other non-invasive procedures like Exilis Ultra. This nonsurgical skin tightening treatment simultaneously delivers radiofrequency and ultrasound energy to target specific body parts. This combination further improves skin lifting and tightening results.
We invite you to contact Cutis Laser Clinics to schedule a consultation or learn if Ultherapy facial treatment in Singapore is suitable for your skin concerns.